....
CULTURE ...
MODELS
Transcultural Synergy assist businesses involved in cross-border acquisitions, joint ventures or strategic alliances with their post merger integration challenges that arise from the differing organisational and national cultures. Our aim is to maximise human potential in transnational collaboration.
<![if !supportEmptyParas]> <![endif]>
We also assist companies solve cross-cultural challenges in international transfers, expatriation and general mobility issues, as well as in multi-national marketing and business development. Our strengths are working with European & Asian companies seeking better client & staff relations transcending cultural differences.
<![if !supportEmptyParas]> <![endif]>
CORPORATE CULTURE MODELS
.
To go straight to Intercultural Models click here
Sometimes in order to make it easier to understand culture or cultural features, it can be useful to use models.  One must always be careful to treat models and avoid overgeneralizations or stereotyping.  Models are to reality as maps are to territory.  One must never confuse the map for the territory.  Bearing that in mind models can be very useful in guiding us through an otherwise jungle-like maze of intricacies in the differing ways organisations and cultures behave.
<![if !supportEmptyParas]> <![endif]>
Below are some samples models that have been used by corporate culture specialists, organisational development counsellors and management consultants:
<![if !supportEmptyParas]> <![endif]>
<![if !vml]>
<![endif]>
<![if !vml]>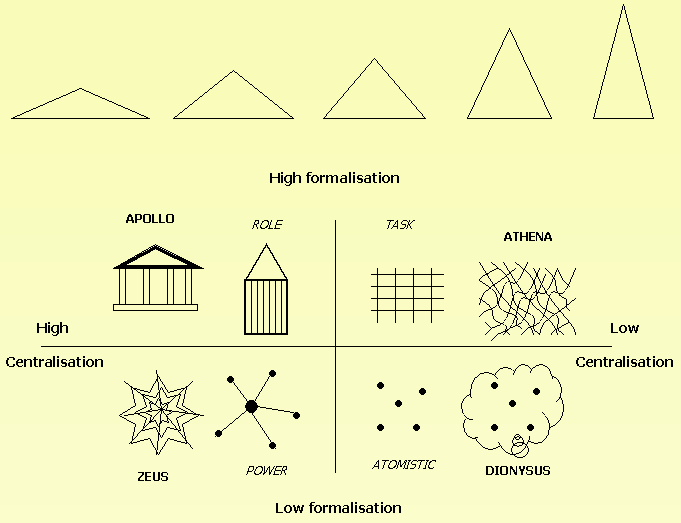 <![endif]>
<![if !supportEmptyParas]> <![endif]>
Note: These and similar models have been used in different contacts by consultants, managment gurus and researchers over the last 50 years. As they have been distorted or modified, it is often difficult to pinpoint the exact source, but here are some names: Roger Harrison, T.E. Deal, David Hurst, A.A. Kennedy, Marshall McLuhan, Desmond Graves, Robert Ornstein, McKinsey Group, Boston Group, Harold Innis, Charles Handy et al..
By clicking on the links below, you can view further intercultural models:
(These can take a little while to download)
<![if !supportEmptyParas]> <![endif]>
<![if !supportLists]> <![endif]>East West Dualisms........
Images of Organisations.......... .(slides) *
<![if !supportLists]> <![endif]>Managers' Concept of Working Lives.......(slides) *
<![if !supportLists]> <![endif]>Corporate Cultures Patterns across Nations......(slides) *
<![if !supportLists]> <![endif]>Hayashi Model of organising principles
...(slides) **
* The source of these models is unclear, but has appeared in the work of Trompenaars and Hamde-Turner in connection with their work on Dimensions based on G. Hofstede's work.
To listen to an easy introduction to the field of intercultural management as it relates to business recorded by management expert Charles Handy for the BBC (introducing the work of Fons Trompenaars and Charles Hamden-Turner, the last in a 13 part series on management gurus), check out http://www.bbc.co.uk/worldservice/learningenglish/work/handy/intro.shtml
or click the link here to go directly to the recording (in RealOne Player):
BBC: Charles Handy's introduction to cross-cultural management through dilemnas (audio)
<![if !supportEmptyParas]> <![endif]>
** This is an important and not well known model in the intercultural management field.  The model was developed by Prof K. Hayashi, MBA, in Japan, through numerous interviews with managers around the world.  It tried to make different approaches to management clearer to Japanese managers.  Many researchers have subsequently used the model for further research, especially by Japanese interculturalists.  It is important in the field, as it is one of the few cross-cultural models that have been developed outside the West, and therefore take a different angle.  It is important to realise that models themselves are culturally biased, and that if models, theories or approaches are going to be useful in an intercultural context, they too have to be balanced in terms of intercultural viewpoints. 
<![if !supportEmptyParas]> <![endif]>
Especially in Occidental-Oriental intercultural relations it is important we not only use Western models, but Eastern ones as well, and it is for this reason I present Hayashi's model here.  If we cannot understand them, then we really have a deep problem, cross-culturally.  However, I believe the concepts, if experienced from within, are perfectly comprehensible.  Although Hayashi's approach is based on E.T. Hall's principles of low and high context communication, it takes a distinctly Japanese angle by exploring the way work and people are organised in corporation, arguing the fundamental differences are in the organising principles.
A transcript of one of his lectures can be read by clicking here.
For those interested in the field of intercultural management in general please go to the Links page, and especially consider their local SIETAR (Society for Intercultural Education, Training And Research). If you have difficulty finding a local branch, please send us an email and we will try to direct you in the right direction.
<![if !supportEmptyParas]>
<![endif]>
<![if !supportEmptyParas]> <![endif]>
<![if !supportEmptyParas]> <![endif]>
| | | |
| --- | --- | --- |
| © Transcultural Synergy | Fax:  +44 (0)70 9237 0950 | Tel:  +44 (0)20 8755 5824 |